Beth Porter - Questions and Answers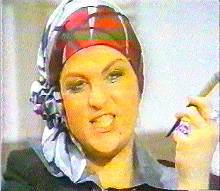 From Joe -
"The show was great. Your portrayal of Kitty was magnificent. Are you American (you played one so convincingly). Also, what else have you appeared in?"


Beth - Thanks for the kind words, Joe, and glad you're such a fan of RF. It's amazing, isn't it, how well it stands up all these years later! Rather than list my entire list of credits for you, try doing an actress search for me on the Internet Movie Data Base http://www.imdb.com for a dose of stuff I've done. Of course it doesn't include all the years I spent doing stage work in the US and UK, but hey, you can't have everything! I was lucky enough to be in 3of Howard's telly plays before RF77: Verite [directed by Piers Haggard]; Censored Scenes From King Kong [which was actually censored by the BBC and never shown, but which is wonderful black comic piece later produced on stage in London and NY ... Julie Covington and I played a couple of nightclub singers ... and it partly inspired Howard to write RF]; and Anxious Anne, which Howard wrote for me as part of the She series on LWT in which each play was about a different woman, with Charles Aznavour doing the theme tune! I played Anne, a paranoid children's book author who cannot cope with life. Amazing cast ... including Emma Thompson's mother Phyllida Law as my editor; Donald Sumpter as my boyfriend; and, as two of my crazy mates ... Linda La Plate [acting under the name Linda Marchal] and Julie Covington! Howard's witty scripts always attracted amazing performers ... I mean when you think of who appeared in RF76 & 77 ... it's like a who's who of UK telly! Bob Hoskins, for example, in a couple of episodes playing a right-wing club owner whom Kitty Schreiber uses for sex and the advancement of her acts!
---
Linda who runs a great Tim Curry site at http://www.geocities.com/Hollywood/Cinema/2636/
asks if you have any anecdotes about Tim Curry you would be willing to share.
She also comments " She [Beth] was also in Blue Money with Mr. C. I loved her RF character, a powerful macho woman, before they were at all common. Her great stairway musical number
was killer. "

Beth - Hi Linda ... dunno if I should admit to how nerdy I am, but I'd already seen your lovely website and agree that Tim is smashing package of goodies! He was a delight to work with ... our first pairing was as boyfriend/girlfriend in Howard Schuman's telly play Verite [which was also Howard's first telly play!]. Tim played an "aleatory filmmaker" and I played his self-centered girlfriend who indulged in tap-dancing when she was sad. The closest I can come to an anecdote is when Tim arranged for a bunch of us to be in the audience of The Rocky Horror Show. As you'd expect, his performance was a knock-out on stage ... and, as I recall, he gave a pretty good performance at the party afterward, too!
---
David has a great set of questions for you:-

David - What was recording the series like? Was it bedlam or done with military precision? Did the cast work well as a team, did they enjoy working with each other or were there "problems"?

Beth - Great questions, David ... the recordings of RF were one of the most creative experiences I've had as an actress. This was first and foremost due to the brilliant scripts by Howard inegrated with the fab songs ... I really can't think of another tv musical which used music to push forward the narrative the way it does in RF. TV shows simply cannot be bedlam ... there's too much at stake. Dunno if you guys realise it, but an hour of telly fiction costs between 500,000 and a million pounds to make. Even 22 years ago it was comparable. But even with the rigours of a shooting schedule, the producer Andrew Brown [who sadly died a few years ago], the Exec Producer Verity Lambert, the Head of Thames Jeremy Isaacs, and, of course, the show's directors all set the tone for an atmosphere of mutual contribution to the realisation of this ground-breaking show. There's an effect, for example, in Episode 4 [I think it was 4] called Loony Toons ... it's when the girls are singing the Loony Toons song as their world seems to be cracking up in various ways. As they get further from reality, the telly image evolves into what I guess you'd have to call electronic stick figures. It's a wonderful visual evocation of what was happening in the narrative ... and it was the result of one of the technicians fooling around, stumbling on the effect, getting really excited and showing it to the producer and director. This is not, may I say, the usual way of working ... and it's a credit to the team that the technician felt he could make as positive a contribution as anyone else! We worked together for many months ... sometimes under a lot of pressure of time and lack of money .... I can't remember which episode, but we were still getting re-writes during the recording!! So, under those circumstances everything isn't 100 per cent honey and roses. But there was a very special family feeling, and I'm sure it was experienced even by the actors who only came in for one episode.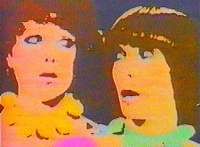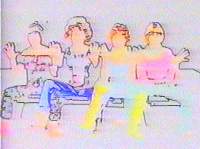 Were you familiar with the first season when you signed on to do RF'77?

Actually I wasn't, because I had taken some time out to live in Hollywood when RF76 was on. Of course I knew all about it because by then Howard had become one of my best friends, and we'd
both worked with Andrew Brown before. It was truly magical ... I was really getting fed up with tinseltown and hoping to find a way back to the UK, when I got one of those fairytale phonecalls in the middle of the night. It was the ebullient Andrew Brown telling me in his effusive Ozzie accent that Howard had written a part for me in RF77 and would I be interested? Would I!!!! Then he and Howard flew over and we discussed it and the rest is history. I didn't need to read anything ... I'd have done anything that Howard had written. He really does have an incredible gift for creating challenging and extremely funny women characters. And ya don't get many of them to the pound, lemme tell you!

Were the musical sequences difficult to do? Did you enjoy your moment of glory singing in 'The Empire'?

Well, for me ANY musical sequences strike instant terror. I have fantasies of being a gritty blues singer. And the music in my head is award-winning. But when I have to open my mouth and produce the goods, my throat squeezes up like an empty toothpaste tube. So I have to psych myself into not singing as Beth but singing as the character. So when I was acting, I'd describe myself an actress who can put over a number, rather than a singer. True story: on the film Yentl, when I auditioned for Barbra Streisand, she wanted me to be her movie understudy ... which isn't really done in the movies. If you're the star or featured, you get a stand-in of similar height and colouring while the set is being lit so the camera and lighting guys can adjust everything technically. But an understudy is a proper actor and I had not only to learn all Barbra's dialogue so I could rehearse with the other actors while she set up each shot as the director ... but I also had to learn all the songs. I mean this is one of the best singers in the known universe here! When she asked if I could sing, all I could reply was ... not like you, sweetheart! Anyway, back to Kitty ... I got to do two numbers, sadly neither of which is on the album [or I might be a rich woman today!] The first was a witty duet with Little Nell as my assistant Sandra Lemon called Kid's Good in which we telepathically agree that Sue Jones Davies should become the 4th Little Lady. And, of course, the fabulous staircase number Empire ... which had what's got to be the greatest television costume and make-up ever! I've still got the peacock feather earrings, which, you may recall, set off a head-dress of peacock feathers!



Kitty was a rare example of dominant female character. How difficult is it for women to be cast in good roles (in Britain at least) and is it any better since the time of RF'77?

Yes, sadly, you're right ... women still aren't equal to men in the great character stakes. Dunno if you know, but I'm also a media journalist and I once did a piece for The Independent on whether the great Hollywood studio days actually provided more/better roles for more women than today. They did, of course, because studios in those days owned you along with their stable of stars. So if they had you on contract, the films better be providing work. I mean if you study the great studio films of the 30's, 40's and early 50's ... they all had interesting sub-plots and were peopled with great cameo parts. Strong women roles for strong faces like Bette Davis and Joan Crawford and Eve Arden and Rosalind Russell as well as more expected sex-bomb stuff from Monroe, Jane Russell, Veronica Lake, etc

Well, it's a bit better today on UK film and telly ... but not nearly good enough. Progress is due to a few more women writers, directors and producers. But even before production starts, scripts need to be commissioned. And the fact is that most of the decision making about what gets made is still in the gift of men. And, bless 'em, people making decisions tend to go for what they're comfortable with. And, bless 'em, most men just ain't that comfortable with strong women. Another true story: For a time I was a development executive at BBC television drama series. I was convinced that BBC 1 needed some really witty and original detective series and I convinced the Dept Head to okay pilot scripts for a number of women detectives. Really good original stuff. Both period and modern. Different ages. Not the same old Miss Marple stuff. And do you know what the prevailing attitude was? Well, if we do decide to go with a woman detective, it will have to be only one of these. And this was at a time they said the WANTED more detectives!!!! I mean, how many male detectives with booze and/or marital problems do we have? Oh, yes, more of those, please!

And, despite Linda La Plante, our screens still aren't reflecting sufficient a variety. And there still aren't enough women in major decision-making roles in film and telly. But, hey ... I'm an internet nerd now ... so maybe there's a cooler way!

How did you approach the role and was it mapped out, or did you contribute to the way Kitty developed?


Well, as I've said above, Howard did write the part for me ... which is one of the greatest honours I've ever had as an actress. But, of course, all the scripts weren't fully written when we started recording. I guess the most significant contribution I made to Kitty was the strange emphasis on her catchphrase Crazy 'Bout It! I don't know why, but the very first time I said it, I pronounced it crazee with the stress on the zee.


At first, Howard didn't like it. But I knew it was funny. And, again, it says a lot about the
atmosphere on the production that he let it stay. Once the show was broadcast, people would shout it to me in the street. I even saw it on a tee-shirt! The other major contribution was the result of the age problem. Even though I'm a couple of years older than the 3 girls, I've always looked very young for my age. And Kitty was supposed to be a kind of warped mother figure, in a caring, Lady Macbeth kinda way! :) So how were we going to underscore Kitty's authority over them? My idea was hats ... and it came about when we were discussing what Kitty should look like ... clothes, hairstyle, etc. My theory was that if you NEVER saw Kitty's hair [except when it was wet in the bathtub when you couldn't really see any definite hairstyle] ... there'd be some kind of weird hat-authority. The brilliant costume women developed that with the incredible variety of hats and turbans and scarves. In fact, until you saw Kitty in the bath, there were even rumours she could be bald!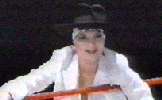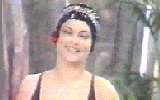 But, listen, this was Howard's prime creation. It was one of the best blueprints for a character I've ever had. The secret about portraying ruthless people, of course, is that THEY don't think they're ruthless. They're obsessed with doing the best for their career, their kids, their whatever. I always thought of Kitty as a stylish modern-day Lady Macbeth. And, even though, like the Kitty she's named for, she always lands on her feet, she really isn't focused on herself ... it's those little ladies she's looking out for, even if she has to manipulate them to death!


Are you surprised that the series is still loved by fans around the world? How do you feel that the series is still being screened - it was on cable TV in Australia before Christmas - 20 years after it was made?

Not really, because I just thought the scripts were so fantastic from the moment I first saw them. Also, it broke new ground in combining great original characters, side-splitting humour, great music and a story that just zipped along. Even though I've aged and [shame on me] just about doubled in size since then, I STILL get stopped by strangers who remember RF! And the things Howard's writing about are timeless ... how we use each other in business and private lives and the effect that has on us. These aren't issues that date ... not until we live in a wonderfully caring, sharing set of communities and respect each other for who we really are inside .... yeah, right!

How did you find your way from the US to the UK. Was it a wise decision in retrospect?

Hmmm ... I came here in '68 from New York to start the London branch of the La MaMa Theater Company [I'd been with the NY La MaMa for 3 years ... our director was Tom O'Horgan who also directed both Broadway and West End premieres of Hair]. By that time I'd fallen in love with and married a Scottish guy and we ran the company together for about 3 years.Then, after a brief period of self-exile in Scotland, we came back to London and I started a solo acting career. Pete and I split up, but by then I knew I wanted to stay. After several film & telly appearances with Leonard Rossiter, Woody Allen, Albert Finney, etc I realised how much I didn't ever want to go back to America. Even when I did for a bit in 76 [when I appeared on shows like Kojak] ... I really wanted to come back to the UK. I don't feel British, but I do feel emotionally comfortable here. I dunno about wise ... I guess if RF had been an American show, with the attention and publicity I received as Kitty, I probably would have got my own spin-off series. And maybe that would be true if it had happened now in the UK. But that was then. And it didn't. So, who can tell. I do know I probably wouldn't have had the chance in the US to do the incredibly interesting work I've done here ... not only as an actress, but as a writer, journalist, telly exec, and now internet consultant. Inside, I never felt my "face really fit" in America. And even today, if I have to go back [which I hate] I always feel alien over there. Last year I moved to Bristol, and I'm loving it here!

The Internet movie database lists nothing for Beth between Blue Money (1982) and Pleasure (1994). What were you doing in the interval or is the list hopelessly ill informed? It is a valuable resource but it is biased towards movies. Have you done much TV work?


I guess I did a fair old bit, but nothing as good as RF. There was a pretty dire BBC thriller series called The Deep Concern that I starred in ... as a slinky red-haired [wig, wig, wig] best-selling author ... There was an episode in The Men's Room [another slinky [another wig] book editor to Bill Nighy] ... a whole bunch of radio stuff and film voices [here's trivia for you ... remember when Veronica Cartwright dies in Alien? Well, guess whose voice that is? Yep, c'est moi!

But, by that time, I was already starting to move around the other side of the camera. The BBC trained me as a script editor and drama producer ... I did a stint up at Pebble Mill, produced a studio drama by poet Adrian Henri, a modern adaptation of Kurosawa's Roshomon ... starring Adam Faith! Did a bunch of freelance script development stuff, produced Mark Herman's first film after he graduated from film school ... you know him, he directed Little Voice ... this one was called Unusual Ground Floor Conversion and starred Adrian Dunbar, with a wonderful brief appearance by the late Roy Kinnear. Then I went back to the BBC as a development exec. Meanwhile, was writing stories [some broadcast on Radio4], film-scripts [some commissioned but none produced ... YET!] etc

And simultaneous to all this, I was London Editor of Film Journal International [which I had to give up last year when I moved to Bristol. I also was the Senior Researcher for The Sunday Times Magazine pull-out 1000 Makers of the Cinema, and have done a bunch of articles for The Independent and other UK papers. After the BBC, I became an Internet nerd ... became Senior Web Producer at a London webhouse including the Boots the Chemists site. Now work as an Internet Consultant and am Chair of the Board of SWIM [ South West Interactive Media ] which represents the industry throughout the SW region of England.

But I still act if anyone wants me to ... In fact, I'm playing an Elvis-obsessed fan in Sue Teddern's lovely radio play From Galway to Graceland which is going out on Radio 4 on Tuesday 16 February at 2:15 p.m. You've been warned!

Who do you admire? Any favourite actors/actresses moves/TVseries.
I admire Leonardo da Vinci ... he truly inspires me to explore all my artistic and scientific interests!

As for favorite actors, etc ... hmmmm ... one of the best for me was the great French craggy-faced Jean Gabin; but I guess Brando has always been the Governor for me. The guy just knows what to do on screen at every given moment, no matter what the role is. There are plenty of talented people around today ... sadly there aren't always writers and directors who understand the creative process that good actors should be allowed to go through. So you wind up with really creative people like Tom Hanks in a wadge of directorial glop like Saving Private Ryan, with no real characterisation ... and everyone goes oooh, ahhh, and he's nominated for a best actor oscar. This is madness and nothing to do with acting. This is a big subject and probably worth a whole other session about it!

Copyright The Rock Follies Website 1999
---
Thank you all for your questions and a big, big thank you to Beth for answering them. If anyone has any more questions Email me


The Net Effect by Beth Porter

"The essence of humanity is free creative activity." It is upon such premises that I hope to highlight the relevance of the Internet to human socio-cultural development." - Beth Porter
Stephen Fry says, "A remarkable achievement. Beth Porter has produced a clear, fascinating and provoking overview of the net. In an overcrowded market here is a book that really stands out for its authoritative mixture of knowledge, enthusiasm, clarity and insight." and "A book no one should be without. Her understanding of the wider commercial, social and political implications of the net is combined with a practical and entirely sane feeling for it as an extension of the human spirit."

Buy online at Amazon.co.uk or visit Beth's website for more information

Charlotte Cornwell Q & A Rula Lenska Q & A