This article (words and pictures) is taken from a 1977 TV Times magazine.
Only a year or two ago, Howard Schuman, a New Yorker who wrote pop song lyrics, was crawling aboard a London-bound plane "hoping I wouldn't be recognised as having written a flop musical." A month ago the satirical series he created when he arrived in Britain was voted television's best drama series of 1976 by the British Acadamy of Film and Television Arts. And on Wednesday, a new Rock Follies series begins.
The story of The Little Ladies, the all-girl rock singing trio and their struggle for stardom, broke new ground with it's dissection of the world of pop music and showbusiness. It also rocketed three little-known actresses to star status.
Their success was international - and nowhere more so, ironically, than Schuman's home town of New York where as Lesley Salisbury reported recently in TVTimes, Rock Follies was a smash hit. One New York TV station showed the series that had already been screened here, on successive nights ... and then had to repeat them, such was the interest.
Success brought individual recognition for the three girls involved - none more so than Julie Covington. Julie, who continues her role as Dee in the new Follies, recorded Don't Cry For Me, Argentina, a song which won her a golden disc for its 500,000 - plus sales. Julie is to star in the Tim Rice/ Andrew Lloyd Webber musical Evita, for which the song was written.
Things have happened too, for Rula Lenska ( 'Q' in the series ) who is awaiting the release of Queen Kong, the spoof film she made recently. Meanwhile, Charlotte Cornwell ( Anna ) has been acting in Bernard Shaw plays in repertory.
So what does the immediate future hold for the talented trio in Rock Follies? Howard Schuman says: "In the first series, the girls were the victims of outside pressure. Now we will be seeing how they cope with internal problems - ambition, ego, guilt. I like filling my scripts with humour - but there's a lot of drama there, too, " he promised
---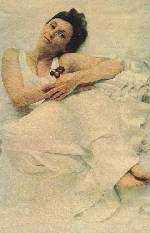 JULIE COVINGTON as DEE:
"It's been a good year. The record and everything. But if I ever become very content with being Julie Covington it's likely I'd give up acting. People always said you cannot do both straight acting and singing and they made me feel very greedy that I wanted to do both. Rock Follies helped to solve that for me. I suppose I'm radical, like Dee. But I'm not Dee. My first memories of the music business were after I made my first record and was out of work. I ended up in a store in London actually selling my own record. Painful business, music"

HOWARD SCHUMAN: "She's handling her success with Follies and Evita with amazing sense. Everything that's happened to her is extraordinary; but then she's extraordinary. She's trying to have her success and keep her privacy, I think it's her way of holding onto reality. I wanted to work with Julie when I first came to England, and it all came out right."

CHARLOTTE CORNWELL as Anna:

" It was the first big thing I had ever done on television. There were seven auditions and then I was told I had got the part. There was a marvellous lunch party ... but later I was told my father had just died. It was a strange sort of day. I used to find the part frightening. We all believed in the series but we didn't know how well it would go. I've a lot more self -confidence in this new series. Of the three characters, I think it's Anna who develops the furthest. She finds out what she's about. She finds her identity and becomes much more positive. It helped me do the same."

HOWARD SCHUMAN: " Charlotte's playing the most selfish character, yet she never holds back. In fact in the new series Anna becomes more likeable. Even when Anna is being pretentious, you know she's struggling and you feel something for her. Charlotte's got it dead right."

RULA LENSKA as 'Q' :

" I had a bad throat when I first auditioned for Q. All I could do was make a noise, but they asked me back again. When I got the part I spent the evening in the local pub on the phone to my boyfriend, mother, agent, everyone. I find it difficult to contend with the taste of fame. But it's been marvellous doing the series. I'm getting married in June ( to actor Brian Deacon ) and it's brought me a house in Wimbledon. Q isn't so glam in this series. A lot of the glitter has been knocked out of her. Yes, there are bits of me like her. Just a little bit showbizzy. Just a little bit"

HOWARD SCHUMAN : " I was worried about Rula. Could a girl so beautiful act as well , I wondered. She can. What Rula brings to Q is a marvellous vulnerability. Q is very brittle, but really she's a target and covers it up by being flip."

---