ROCK FOLLIES (ITV, (p.m.): The little ladies find their sugar mountain -- and the final fade out.
A stunning series, as exciting visually as it often was musically, but sadly there will be no more. On screen as off screen the little ladies have gone their separate ways. Dee and Rox the two who can actually sing, making for the big time while the others are forced to come to terms with what author Howard Schuman calls 'the real life'.
Source unknown

The little ladies split up in last night's instalment of Rock Follies of 77 (ITV) a Thames Television series which this time has lacked the zest and wit that once cleverly concealed the familiar routines of the back stage musical.
It diffuses its interest between too many competing personalities but Howard Schuman can still score several hits with a single line. "I might work with a Right-wing Fascist," said Q, dismissing a Greek singer auditioned as a possible replacement, "but not with someone who wants to win the Eurovision Song Contest."
Source unknown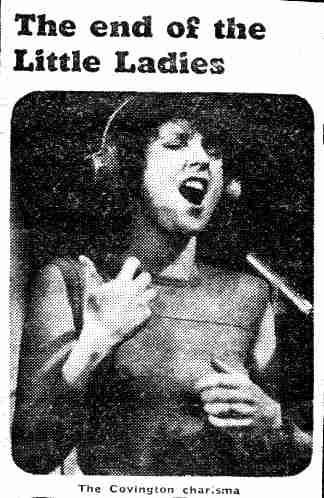 WITH THE climax of Rock Follies of 77 (9.0 ITV), this superior serial can now be seen as nothing less - or more - than the old Hollywood back-stage show-biz musical brought up to date. Peppy little girl makes good, learning that you gotta be tough sometimes, even at the cost of being nice. "Come on , Dee; after all you've done to me, don't expect me to love you," Charlotte Cornwell says to Julie Covington at the end of this week's Part Two.
The updating is what has made the serial so important. I don't mean the pot and the gays, but the acidity of the lyrics (what a shame that the strike that delayed this episode makes "Not a penny for the Jubilee" so untopical now); the sense of ensemble playing (if that doesn't go as far as A Chorus Line, still packing them in at Drury Lane, blame Julie Covington's star charisma); and, above all, the daring use of production numbers to expand and comment upon the naturalistic action.
Praise must naturally go to writer Howard Schuman, producer Andrew Brown and composer Andy Mackay, but it belongs also to the normally unsung backroom workers. Thames has recognised this by giving an unusually long list of them a final credit; keep watching at this point, and not how large a "ground staff" is needed to make a programme fly. Despite the plot's being apparently left ajar for a Rock Follies of '78, I am assured by department-mother Verity Lambert that this really is The End.
Source unknown