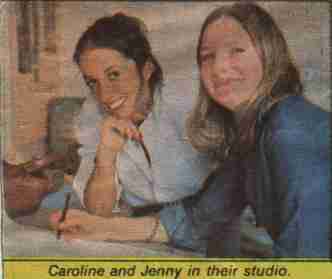 YOU'VE probably seen the work of Jenny Tate and Caroline Middleton hundreds of times without even realising it. They design the costumes for lots of TV shows, from "Opportunity Knocks" to "Rock Follies"!
And both girls were hard at work in their light and airy studio, in the Thames TV complex at Teddington, near London, when Watch Out went along to see them.
We found Caroline sketching a few ideas for the Victorian heroine in one of magicians David Nixon's elaborate illusion sketches.
"The only trouble with this job is that the costumes keep disappearing!" she joked.
Meanwhile, Jenny was sewing Essex constabulary badges onto heaps of policemen's uniforms.
"We have to be careful with uniforms," she explained. "The costumes mustn't be exact replicas of real policemen's outfits so I;m busy providing the wrong badges."
Both girls usually work individually on shows, but they did team up to provide the dazzling costumes for "Rock Follies".
How did the girls set about dressing this show?
"Well, first we carefully read all the scripts," Caroline explained. "Then we discussed it with the writer and attended planning meetings to get a good idea of what everyone was attempting to do.
"Then, once we'd got our budget, £2000 per show, we sat down with our sketch pads and a huge pot of black coffee!"
"Yes, it was a question of drink, doodle, drink, doodle," Jenny added laughing. "Of course we also had to take into account what the actresses liked and disliked.
"For instance, Julie Covington's crazy about pink, Rula Lenska loved greens, blues and purples and Charlie (sic) Cornwell wanted lots of yellow,"
MANY of the clothes, worn in the series, were bought in London shops like Che Guevara, Bus Stop and Peter Robinson.
"We went shopping with the girls and kind of dragged them down the Kings Road," Caroline said, smiling at the memory.
"But it was very interesting to see the kind of things they went for," she continued. "Julie almost lives in tight jeans and skimpy T-shirts. Charlotte loves sporty shorts and sneakers, whereas Rula tends to be more feminine"
"Actually though," Jenny added, "we suggested camisole and frothy lacy petticoats for Rula, which she hadn't really considered until then. And she discovered she loved them!"
But, naturally the clothes the girls enjoyed the most in that particular series were those they designed themselves.
"I must say I've got a soft spot for those Carmen Miranda outfits the girls wore in that outrageous advert in the first episode," Caroline grinned. "We watched masses of Busby Berkeley 1930's musicals to get in the right mood and then just let our imaginations run loose!"
"That's the best part of being a designer - when you can let your imagination run riot," Jenny agreed enthusiastically. "And funnily enough, there aren't always that many opportunities.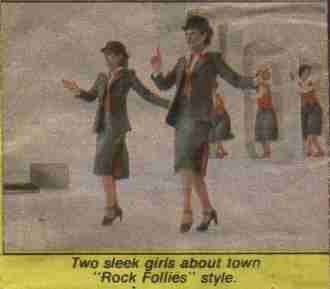 "You see, with historical dramas, the costumes have to be so accurate that they're basically just copies of the fashion of the time. And with most modern series, you can just go out and buy the right clothes in the shops."
But what kind of clothes do Caroline and Jenny like themselves!
"I'm rather a bad advert for my job!" Jenny confessed. "I tend to be rather cautious in the way I dress and just go for practical things like jeans."

"whereas I'm the complete opposite!" Caroline grinned, "I live out my fantasies in my clothes. I love them.
"When I wake up in the morning I might be feeling like a carefree gypsy or a conscientious career girl, so I dress accordingly."
"I mean, for my gypsy fantasy I might wear an antique lace dress and masses of jewellery, but I'm also into very smart suits with high heels. Though I think wearing a bowler, like the Rock Follies girl, might be going a bit far!"
OBVIOUSLY both girls are very knowledgeable about and involved with clothes and fashion. After all, they have to dress some of the top stars in TV. So I asked them if they had any advice for Jackie readers on how to look your best.
"I think the most important rule is to know yourself," Jenny said decidedly. "Get used to your own body and get used to what you can wear and feel really confident in.
"That means being pretty tough with yourself," she continues. "You really have to look at your own figure critically, then try to emphasise your good points and draw a veil over the not so good.
"For instance, if you're a big girl you shouldn't begin to think about pleated skirts!"
"Yes, I agree," Caroline said. "But I also think you should be prepared to experiment. Nowadays in fashion, anything goes, so you should take advantage of it.
"OK, occasionally you may look ridiculous, but you learn by your mistakes, and you could discover something you never suspected, makes you look stunning!"
BOTH girls obviously find their work as costume designers in the busy, informal wardrobe department at Thames, totally absorbing and fascinating. So how did they get into it?
"I went to Hornsey Art College, hoping to be a fashion designer, " Jenny explained. "But there weren't any jobs in fashion going.
"So I started work as a wardrobe assistant at the Royal Court Theatre in London.
"From there, I went to the Royal Opera House, which sound very grand, but all I did was wash hundreds of tutus! Next I did the costumes for a couple of films, freelanced for a while, and then joined Thames."
Caroline also started in the theatre, working as a set builder, then for Berman's, a theatrical costumier and finally as a wardrobe lady at the Shaftsbury and Regent's Park Open Air Theatres.
So, how should a Jackie reader interested in becoming a costume designer for TV begin?
"First go to art school and do costume design or fashion," Jenny said. "Then try to get experience in the theatre before applying to a TV company. Well, it worked for me!"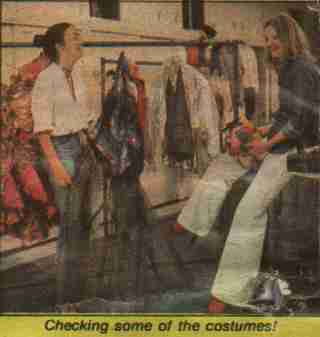 As I left Jenny and Caroline to their sketches, I asked them which TV stars they'd really like to see wearing one of their designs.
"Cilla Black," Jenny said, without hesitation. "She has a marvellous figure for clothes and always sets them off beautifully."
"Barbara Dickson," Caroline said thoughtfully, "I admire her whole approach, her colours, her style, the way she experiments with her make-up and hair.
"Yes, I'd love to see her in one of my dresses!"
So watch out, Cilla and Barbara, two very determined young ladies have designs on you!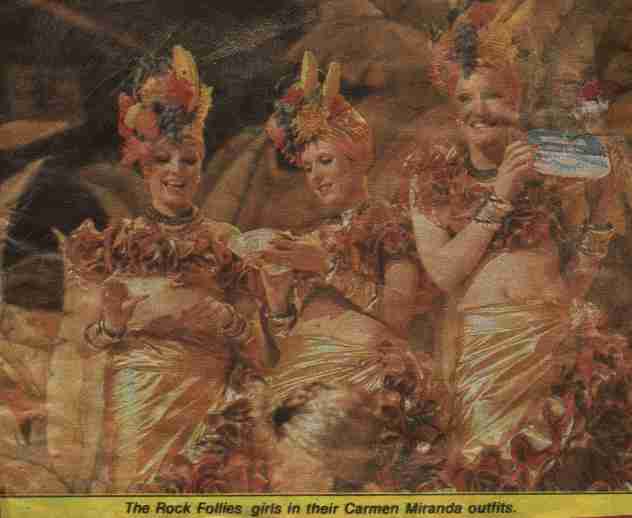 Jackie